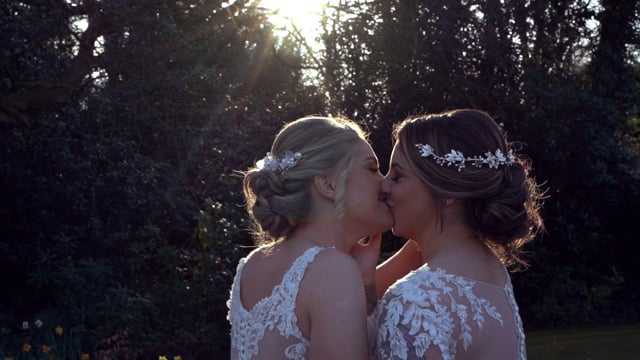 Statham Lodge Wedding Videography review
Here's what Aimee & Laura thought of their wedding film
'Stop right there!! If you are looking for a wedding videographer who captures the love, laughter and happy tears of your day without you even noticing or having to put on an act then you've come to the right place. We can not thank Jo enough for capturing our day in the most beautiful, creative and fun loving way possible.
Jo is incredible to work with without you knowing you're working with! (In the nicest possible way!) Myself, my wife our family and friends all highly recommend without a shadow of doubt. Thanks again Jo.'
Two Lovely Cheshire Brides
It was early April and the sun was actually shining! I arrived at Statham Lodge and ventured in to the bridal prep room to hear raptures of laughter and music. Aimee and Laura welcomed me in an offered me a glass a fizz! I don't normally drink when I am working so you know, but always nice to feel included. We had a right laugh during the prep with Aimee and Laura doing a rendition of a Michelle McManus song (it's long story) but very funny!
Anyway the girls split off in to two rooms so they could put their dresses on separately ready for the big aisle reveal. Laura gave Aimee a really special gift of her grandmas watch set into a glass love heart with their wedding date and time on and accompanied by a hand written poem. This had everyone in bits, I've never seen such a thoughtful and loving gift. It was fair to say their wasn't a dry eye in that room.

Wedding ceremony at Statham Lodge
It was so beautiful capturing the ceremony for these two, both overcome with emotion whilst giggling and holding so much love for each other. This is what I just love about my job being able to capture those incredible, timeless moments. The rest of the day was filled with heartfelt speeches, tonnes of laughter and endless loveliness. Aimee & Laura felt like mates I'd known for a long time, such lovely welcoming people with great banter and up for anything! My kind a gals!
Statham Lodge Wedding Videography
A bit about the venue, Statham Lodge is located in Lymm near Warrington, Cheshire. A stunning Georgian manor house with fantastic gardens and stacks of great opportunities for a wedding videographer. Statham Lodge is what I would call a 'hidden gem' of a venue from the moment you drive through the entrance to the lovely warm welcome from the staff that awaits inside, it's definitely one of my favourite venues in Cheshire.
Statham Lodge Wedding Videography
If you're planning a wedding and are looking for Statham Lodge wedding videography, or anywhere else for that matter, please do GET IN TOUCH to have a chat about your day.
Want to see more of my work then check out my wedding film showreel here
Follow me on INSTAGRAM HERE
If you enjoyed this blog on Statham Lodge wedding videography why not checkout more of my wedding blogs here