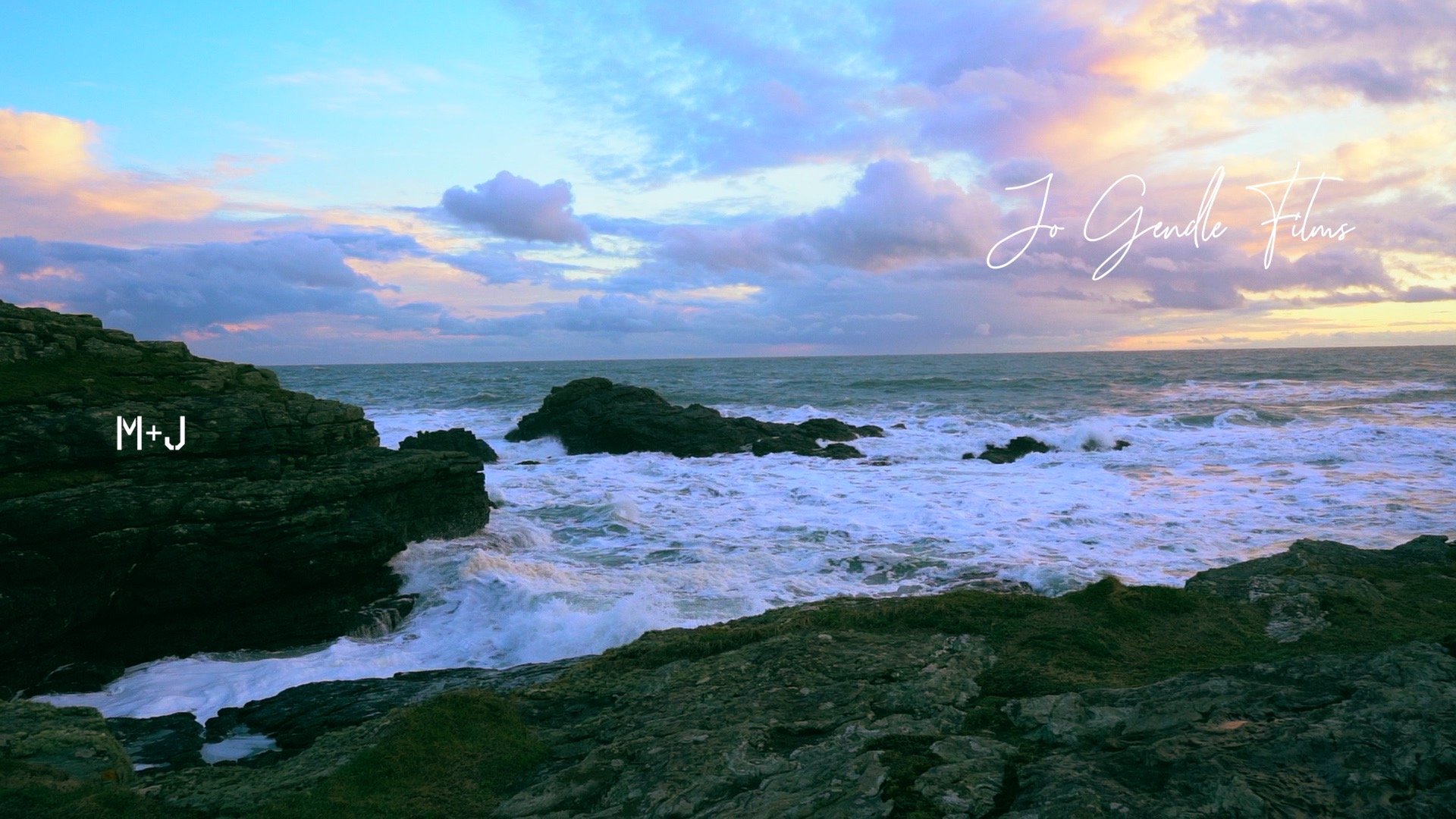 North Wales Wedding Videographer
If you are looking for a fun, upbeat wedding videographer, no posing, no getting in your face then you've landed on the right page! I capture things far from your eye shot so you will never notice I am there! I like to have a laugh with my couples so if you are ok with hearing a few bad jokes then lets chat! 
I offer alternative, fun and relaxed wedding videography across the UK, but North Wales has got to be my fave location!
Enquire today for options and packages.
I hadn't heard of Trearddur Bay near Holyhead but having done some research I knew it was going to be good! When I arrived to film Michelle & Jonnys Wedding Day I was met with a wild sea storm crashing over the rocks and onto the road. It was absolutely mental and I was definitely gonna have to get my waterproofs on!
Being a mostly Manchester and Cheshire based wedding videographer you don't get many coastlines in your Wedding Films. Being asked to produce a North Wales Wedding video was a real treat. I travel all over the UK as a Wedding Videographer so do get in touch if you want your Wedding filmed by an alternative North Wales Wedding videographer.
Cinematic Wedding Locations
I have to say I was completely blown away by Trearddur Bay. The rocky coastline and powerful sea created the best back drop for this alternative wedding film. Michelle and Jonny really wanted to get some footage outside despite the weather. I knew at some point it was going to calm down and after a stormy morning came the sunset. After the speeches had finished I decided to take a wander around the coastline for some cinematic shot.
There was a break in the clouds and blue sky was appearing just as the sun was starting to set. I was sat by the beach and had a little moment to myself surrounded by utter beauty and calm. It was then I thought right I have got to head back and drag Michelle & Jonny out now. The timing was just perfect and they had the same idea too. Therefore missing dessert was definitely worth it for them!
Golden hour North Wales Wedding Film
The 'Golden Hour' in the film and photography world is when you get that price less moment from the sun. The evening is drawing in and the sun is ready for bed. But before it sets if gives off the best light of the entire day. Luckily for me the sun was setting right over the sea creating beautiful reds and pinks through the clouds. The sea was calmly rippling in and creating foam that kept flying about in the air, something I've never seen before.
Treaddur Bay
Michelle had been coming to Trearddur Bay since she was a child on holiday. Therefore choosing the Trearddur Bay hotel as a Wedding venue was an easy choice. I believe you should get married somewhere you have a connection to as this will always be a special place not just a wedding venue. Michelle & Jonny's day was filled with laughter, children, friends, family and some right good dancing. This was a very special Wedding Day from start to finish you could feel the energy and the magic of the coast all day. From arriving in a storm to closing the day with a peaceful and tranquil sunset it was unbelievable.
As I drove home that night something had really effected me about that sunset. As a Wedding Videographer you are always looking through the camera. That day I enjoyed a really peaceful moment looking out to sea and was reminded of how beautiful the UK is. Thanks Trearddur Bay I will see you again next month when I am again a North Wales Wedding videographer for the day in Bangor! watch this space.
Love
Jo x
Get in touch and say: Hello!
If you'd like to see more North Wales Weddings then read my blog on a wedding at the church in the sea
Book your North Wales Wedding Videographer here