2018 has been yet another incredibly wonderful year here at Jo Gendle Films. I have been so busy as a Manchester and Cheshire Videographer capturing your special days. Your Weddings have taken me and my team up and down the UK creating Wedding videos in the Lakes, Yorkshire, Lancashire, Shropshire and Liverpool.
Best Manchester Wedding Videos
This year I have visited quite a few new Wedding venues across the UK. This has been a wonderful experience creating my Cheshire Wedding Films in venues such as Statham Lodge, Nunsmere Hall and Sandhole Oakabarn. The West Tower at Aughton has been a popular spot for Wedding Videos this year too. Meanwhile heading further down south was the freshly renevated Mills Barn. Now this is a super cool modern venue that to me resembles an Austrian well being spa. The gardens are stunning, the rooms are light an airy and there's a tranquil calm feel to it, surrounded by water. This is definitely a venue to checkout in 2019.
Now in the meantime heading back up north is the iconic Titanic Hotel in Liverpool. What can I say about this venue? amazing decor and staff I mean who wouldn't want a photo on the Titanic staircase.
Manchester Wedding videos
I think one of my favourite new Wedding venues has got to be the Applewood just outside Leeds. This venue is nestled in a Woodlands and hosts indoor and outdoor Weddings. I loved shooting Mel and Kate's Wedding here in August, with its quirky Dinosaur and Bird theme. By far they had the most memorable ring bearer when a friend surprisingly came trotting through the woods in a dinosaur outfit! These two Brides had a right good rave in the marquee to some belting 90's dance classics! That was a hard Wedding to leave it was sooo good!
Meanwhile Closer to home I have been creating Manchester Wedding videos at Great John Street, the Lowry, The Belle Epoque and Merrydale Manor. Having lived in Manchester now for 13 years I know it pretty well, especiallly all those hidden gems for filming!.
Filming and creating Wedding Videos is one of life's joys to me! I am a soppy romantic, a good laugh and known to well up during speeches. Getting to do what I do is a dream. It's thanks to all you lovely couples out there who let me fulfil my dream by choosing me as your Wedding videographer.
A Discreet Manchester videographer
I have met so many lovely people this year and witnessed many touching emotional moments. Being part of your Wedding Day is an honour and a priviledge. I may appear relaxed and chilled out at your Wedding but I am working super hard so I don't miss a thing. People say I am like a ninja blending in but with the ability to be where the action is at all times. I pride myself on not being noticed at weddings and guests often ask me if I am the second photographer. Perfect for me so no ones posing or being camera aware, allowing me to capture events naturally.
So all that remains is for me to wish you all a Happy New 2019! And a massive Thank you for having me at your Wedding Day. You have made me laugh, cry and smile. I always say love keeps you alive so here's to a lovely loving 2019! 
If you would like further details on my available packages then take a look here: Packages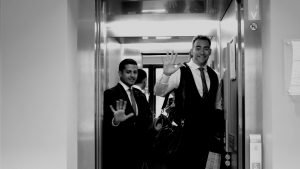 If you enjoyed this post on manchester wedding videos then please read the next blog!
Or Checkout the new 2019 spring Wedding videos here
Or read about Alternaitve Wedding venues in Manchester here