Combermere Abbey Wedding Film
Kate and Scott's Wedding had by far the best music collection I have ever come across at a Wedding! No Bruno Mars or Wedding songs to hear of. Instead a real eclectic mix of awesome dance tunes. We had Drum N Bass, Garage and house accompanied by a live bongo player and a packed dance floor.
I really like to get to know my couples before the Wedding. Its important to know how best to represent their personalities on film. Kate & Scott are those people you meet who instantly put you at ease and before I knew it we were listing off all our music heroines and places to travel.  It was clear to see at the Wedding just how much people adored them especially the Best man who brought in a choir to sing Beauty and the Beast,  As part of his Wedding speech- very fitting as Kate's a massive Disney fan. There wasn't a dry in the house at this point myself included in that as the harmonies were making everyone's hair stand on end.
Personalised Harry Potter Wedding reading
Scott got top marks for redesigning the 7 Harry Potter Books entitled with various life adventures from the 'Tales of Kate Mcnab' these went down a storm! Scott is quite the author! The finishing line in the tale was where he and Kate were sat round and the Grandchildren asked "Do you still love granny Kate after all this time?
His reply: 'Always' in a very choked up voice.
10/10 for the most personal heartfelt Wedding speeches of the year!
Here's a bit about the venue that's just gorgeous for creating a beautiful Wedding  film. Combermere Abbey is a unique wedding venue that lies on the Cheshire – Shropshire border. As you enter the gates and drive through stunning parkland, past ancient oaks you will discover the magical setting that feels so timeless yet contemporary.
Perfect setting for a Combermere Abbey Wedding Film
The original walled gardens surround the glasshouse where you say I do. You can also look out onto the only fruit tree maze around.  In the adjacent garden the impressive Walled Garden Pavilion with spectacular star-lit ceiling has been specially designed for wedding receptions. This really adds that extra special touch and sparkle to your day. This is the second time I have shot a Wedding Film at Combermere Abbey and again it was excellent.
Anyway here's a look at Kate & Scott's fabulous Wedding Day video. If you loved the film drop me a comment at the bottom about all your favourite memories from the day!!!! xxx
A few of my fave photo's from the day too…….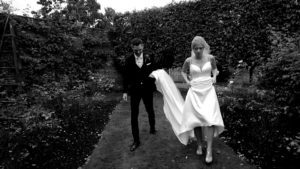 If you enjoyed this Comberemere Abbey Wedding film you might like to see another rather unique day at Nunsmere Hall