Heaton House Wedding Video
I have just finished stylising a truly epic Heaton House Wedding video for the lovely self confessed gaming geeks Zarah & Rick! From the moment they told me about their Wedding and their love of computer games I knew it was going to be a corker of a day! They got married on a Wednesday at Heaton House Farm which saved them some money which they decided to throw back into the Wedding to make it as epic as possible for all! Me and Amy where like kids in a sweet shop literally bouncing on the bouncy castle, staring at the chocolate fountains, applying tattoo at the station, and kicking butt on the arcade machines whilst posing as super mario!
We where also all entertained by the fabulous voices of the Daisy belles who had everyone dancing with a selection of eclectic songs and dances! I'd highly recommend these ladies.
On the day I got to work with the dream crew my videographer pro Amy and Cassandra Lane and Ayesha shooting some awesome photography. We all had such a blast we even made a little film showing how much fun we had whilst shooting.
Retro Shot Cam
Zarah & Rick booked my full package which included the legendary Black Zambuca message shot cam and a Marryoke film! The day just kept giving and giving and there was always something going on around the next corner! The energy was high all day which made for an epic music video shoot. Particular mention must go to Zarah's Mum Lulu who was throwing some amazing dance moves!
One of my favourite moments was when Zarah surprised Rick with a film she had dedicated to him. It was both hilarious and heart warming, I had a slightly watery eye watching it too. I simply love seeing two people so besotted and in love with each other, it's why I do what I do! Did I mention Zarah had even had a Tattoo done especially for the Wedding Day as a surprise for Rick! He did however see it the week before as long sleeves were too hot to bare in the heat wave! tall order keeping that hidden. If you would like a Heaton house wedding video then have a look at my home page.
So if you want to see how epic the day was watch below.
Then take a look at the marryoke video you won't be disappointed.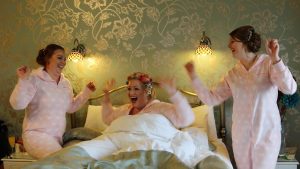 Love Quirky Wedding Videos? You must watch this Dinosaur Wedding from Manchester Museum 
Or this 1920s Wedding at Stockport Plaza